This Almond Joy Pie is pure coconut heaven! With all the sweets in our house right now, this is the one I cannot. stop. eating. I imagined it to be good, but not this good! And even though you have to use the stove a little bit, there's no actual baking required so it's super easy to make!
Whew! What a busy week this has been! No new giveaways today, but be sure to check out the other two from this week. I'm giving away  and an  You don't want to miss out! Plus, there's happening too. Gotta love free stuff!
Many times, I wish I was able to hand you a fork through the computer screen and give you free samples. Free samples are the best. It's one of the few reasons to brave going to Costco on a Sunday. They are just fun. Plus, you could discover a totally fun new food you wouldn't have normally tried.
I wish you could sample this pie through the screen so you'd know just how good it is, buy the ingredients and make it. If you like coconut even a smidge, you'll love this pie. Seriously.
And it's easy to make – another reason to love it. There are times that you don't want to deal with the oven and waiting for something to bake for 30 minutes, then cool, etc and this pie is great for those times. Sure, you have to use the stove, but it's only for a few minutes. Then you pour the filling into the crust and the refrigerator does the rest of the work.
I'm pretty lucky this week because I have to do less work than usual. My mother- and sister-in-law are in town and it's quite nice because my SIL likes to help me bake, so things go quicker with her help and it's someone to chat with my while I bake. Normally I'm on my own or dancing around to whatever my music of choice is that day.
And my MIL is rockin' it as my dish washing fairy. It's been totally awesome coming home every day to having all the dishes done and put away. I could get used to that. I pay with desserts, so I guess it works out. 🙂 She even got to try this pie and was a fan like the rest of us!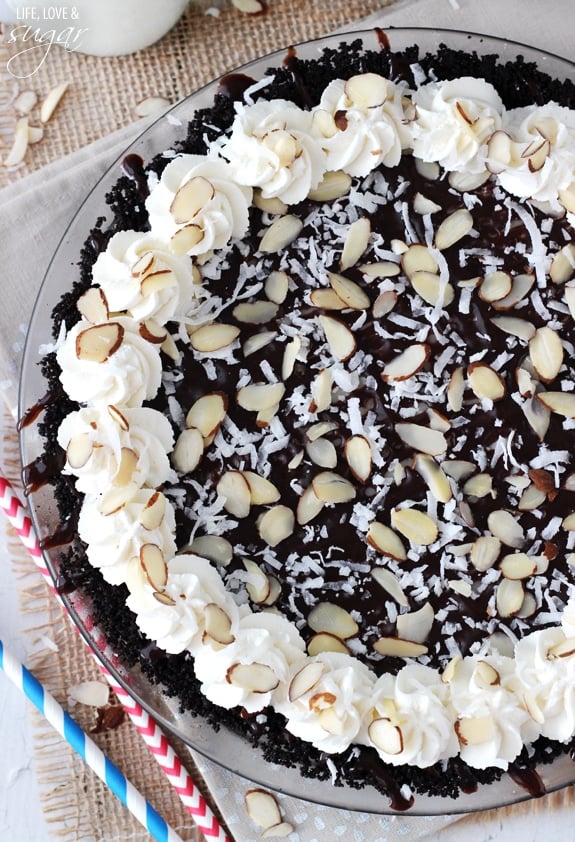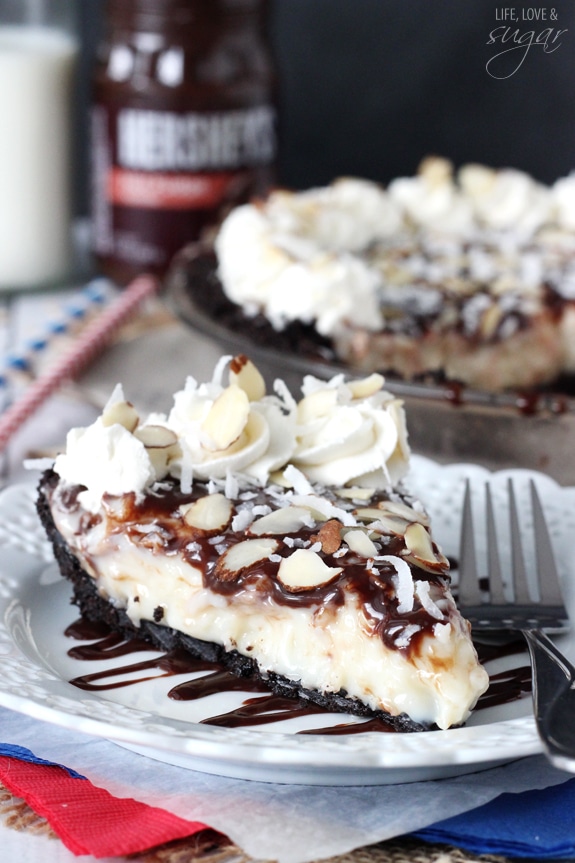 They'll be here this weekend and part of next. They are originally from South Africa, but moved here to the U.S. about 20 years ago. There's a South African restaurant we've heard about in Atlanta and I think we'll be making our way down there for dinner this weekend. I'm curious to see what kind of food and flavors they've got going on. Yay for the weekend!
Do you have anything fun planned? Maybe you'll be making a delicious Almond Joy Pie? 😉