These roasted chickpeas make such a delicious and healthy snack! They're perfectly seasoned, a bit spicy, and super easy to prepare. They're perfect for parties, snacking in front of the TV, road trips, and so much more!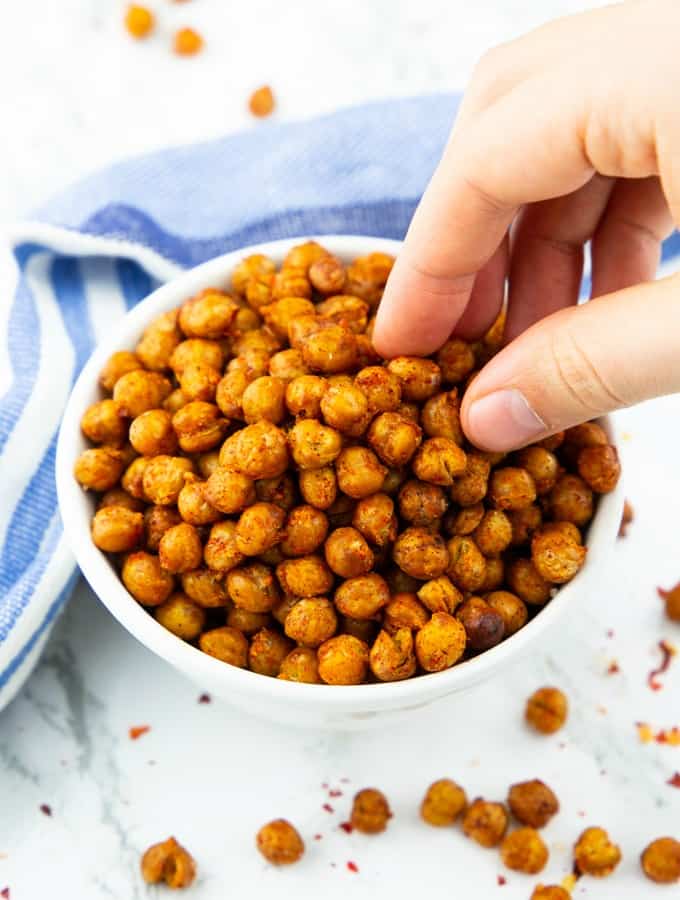 I absolutely LOVE chickpeas! I sometimes just eat them straight out of the can. And the best thing is that you don't have to feel bad about snacking! On the contrary, these spicy roasted chickpeas are super healthy. They're packed with nutrients and protein!
I'm sure you will fall in love with this easy high fiber snack!
THESE ROASTED CHICKPEAS ARE:
perfectly crispy
vegan
healthy
packed with nutrients, fiber, and protein
super versatile (you can use any flavors you like)
gluten-free
the perfect snack!
WHAT YOU NEED FOR THE ROASTED CHICKPEAS:
You don't need many ingredients for these roasted chickpeas. In fact, it's one of the easiest recipes on my blog.
You need only 5 ingredients:
cooked chickpeas (either canned or home-cooked)
garlic powder
smoked paprika powder
olive oil
salt